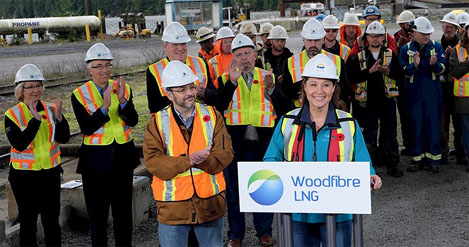 Throughout the provincial environmental review processes of the Woodfibre LNG project in Atl'Kitsem / Howe Sound, the company has been making political donations to the BC Liberal Party. The total amount donated to the BC Liberal Party totals almost $167,000.
Two Woodfibre LNG employees were named in a Globe and Mail article on March 4 2017. Vice-president of corporate affairs Byng Giraud and Marian Ngo, Senior Manager of Communications and External Relations, have made significant contributions and have had these reimbursed by Woodfibre LNG.
There are very few rules on political donations, and one of them is that it is illegal for a private person to make political donations and be reimbursed for those by a company or corporation. The political donations by Mr. Giraud and Ms. Ngo range in the tens of thousands of dollars. They are now under investigation by Elections BC.
All this calls in the question whether or not the Environmental Assessment process can still be trusted. How much money does a company have to donate to get an environmental approval?
As you might know, Woodfibre LNG needs to amend its Environmental Assessment certificate after its seawater-cooling system was rejected by the Squamish Nation. We are in the last week of the public comment period. Until Saturday March 11 midnight you will have the opportunity to submit your questions and comments about the proposed amendments.
In light above the above mentioned developments, instead of submitting a comment, we ask you to boycott this process and send a letter to the Environmental Assessment Office explaining why you refuse to comment. The deadline is March 11 midnight.
My Sea to Sky has set up a form letter that you can personalize.