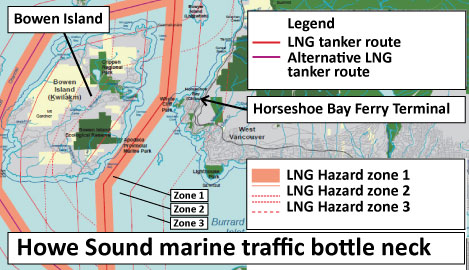 Provincial and Federal approvals have been issued for Woodfibre LNG, but we, as Howe Sound communities, have up to this date not received any clarity on the navigational risks LNG super tankers sailing in Howe Sound. We still haven't seen the Transport Canada's TERMPOL review into this promised to be done over a year ago.
On Wednesday May 16, Goldsmith-Jones is organizing a 'Democracy Talks' session at the West Vancouver Lawn Bowling Club from 5 to 6:30pm.
Guests are Transport Canada Minister Garneau, and Ocean Wise Researcher Peter Ross. The topic is 'Canada's Environment and Economy'.
A great opportunity to ask Goldsmith-Jones and the Minister tough questions about Woodfibre LNG and LNG tanker safety, McNab Creek and Kinder Morgan tanker safety.
When is comes to LNG tanker safety, Bowen Island resident Janine Brossard has tirelessly tried to get answers how we, as communities and commuters, are supposed to prepare ourselves for a LNG tanker emergency. How are the exclusion zones around these tankers going to work? From Federal to Municipal to Provincial, no one could give her any answers. And it seems Woodfibre LNG wants to start building end of the year.
Where are the results of the TERMPOL review of LNG Tanker safety in Howe Sound?
Did Transport Canada do any Large Pool LNG spill experiments as where done by the Sandia National Laboratories for the US Department of Energy? See details about this on our LNG tanker safety regulations page.
How can we talk about cutting Green House Gas emissions, and build new bitumen pipelines and LNG export terminals at the same time?
How can we adequately 'clean-up' diluted bitumen spills when the solvents used to dilute the bitumen are too dangerous, and once the solvents are evaporated, the bitumen itself sinks?
How does salmon wild habitat protection square with gravel mines? See the recent federal approval of the proposed gravel mine at McNab Creek…
Obviously public safety is on the back-burner for this federal government as it sees expanding an oil tank farm close to Burnaby residential areas, or LNG super tankers traversing through the marine bottle neck of around Horseshoe Bay and Bowen Island to be good ideas.
At the same time we see federal funding for environment related projects to appease us into thinking all is well. The May 16 event should be seen as part of this public relation effort as well.
Address of the West Vancouver Lawn Bowling club: 650 – 20th Street, West Vancouver.
Register for event at http://pgoldsmithjones.liberal.ca/events/ or just show up and let some sparks fly!